Ozona Shower Replacement
Bathroom Renovation is the leading Ozona, FL shower replacement company, and we're here to make sure you won't have to endure a damaged, outdated, or dysfunctional shower unit.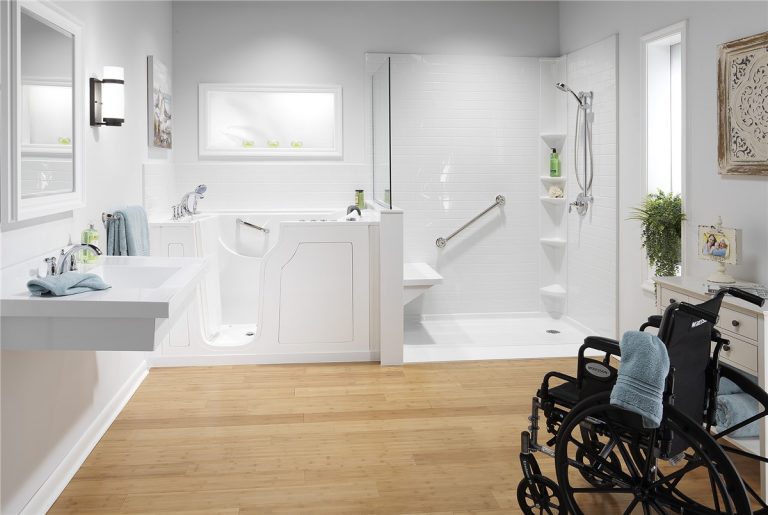 Relaxation is a vital part of daily life, and nothing can quite replace the kind of comfort showers can give. At Bathroom Renovation, we offer the best shower replacement and bathroom remodeling services that the industry has to offer because we believe no one should have to settle for a mediocre shower experience. We want our clients to have the best shower products and features so they can maximize their comfort and enjoyment.
Take this opportunity to significantly improve the way you experience your shower with top-of-the-line bathroom products and features available in our inventory. Our experts will help you pick the products that suit your needs best from a simple shower pan or shower door to a complete shower remodel package, and our installation team will handle your shower replacement in as little as just one day. You can be confident in our service, quality, speed, and efficiency as proven by our long resume of satisfied clients.
For the best bathroom products and services to change the way you relax in your shower area, call Bathroom Renovation today. We are your best choice in getting your dream Ozona shower replacement.
Call Bathroom Renovation at 727-335-2166 for your Free Consultation with a Ozona Shower Replacement expert!
Fast, Affordable Shower Replacement
It's common to worry about the major effects of having construction projects in your home. This includes the mess from all the construction debris, and the time and money it will take to do a full construction project. However, with Bathroom Renovation, you don't have to worry about time, money, mess, or stress.
Our bathroom experts are capable of conducting complete bathroom construction operations in as little as just one day! We employ modern construction techniques that are highly efficient. We make sure sanitation and safety are properly observed, and no resources are wasted.
From making minor repairs to conducting full-scale bathroom renovations, Bathroom Renovation is a bathroom remodeling company that can do it all. Our products are top-notch in design, functionality, and durability, so you won't have to buy from one company then search for another to do the installation.
You can be confident that the bathroom products that we will install in your bathroom are quality controlled to last their peak lifespan. We offer grout-free and non-porous products that can resist moisture and mold. Just tell us what products and features you want and need. We'll be ready to offer them at the best prices in the market and install them in your bathroom in just one to two days.
Functional Shower Conversions
Want to transform your bathroom from a bathtub unit to a shower area? Maybe you just have a change in lifestyle, or you want to renovate your house. Whatever reason you have, Bathroom Renovation is here to offer the highest quality shower conversion services you can find.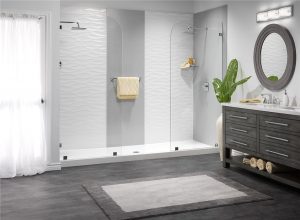 With our bathroom experts by your side, your new shower area will fit seamlessly into your bathroom. From the plumbing and electrical wiring to the design and layout, every important aspect will be taken care of by our specialists. You can just sit back and relax, and in as little as just one day, your newly converted shower will be ready to use immediately!
If you live with people who are challenged in mobility like elders, children, or people with medical challenges, then you will benefit from Bathroom Renovation's accessibility products. Talk to us today, and we can present our long list of top-of-the-line products and even invite you to our showroom to help you choose the bathroom amenities and features that you want to add to your Ozona shower replacement package.
Accessible Shower Updates
At Bathroom Renovation, we truly advocate bathroom designs that cater to all types of people, especially those who are challenged with moving around in a small room with frequently slippery floors. Our industry-grade accessibility products solve these problems, and you can get them for the best prices in the market.
Shower layout is a simple aspect of your bathroom that we can modify to accommodate people with medical conditions like joint pain, arthritis, or physical injuries that hinder them from moving smoothly. We can remodel your shower into an wide-open shower with seating or arrange your bathroom so that the shower has space for assisted bathing. We can also transform the entrance of your shower area to a low- or no-barrier shower entrance so people won't have to worry about climbing in.
We have a long list of accessibility products that you can consider adding to your bathroom as we handle your Ozona shower replacement project. You will definitely enjoy our flip-up seats, shower benches, shelves, tub grab bars, and water jets—all available at the best prices in the market.
Let's Talk Now – Free Consultation

You don't need to settle for a worn-out shower system. Call Bathroom Renovation today for the best bathroom products and services in the state.
If you're interested in our products and services, we are happy to invite you over for a consultation with one of our bathroom experts. We are eager to hear all about your desired Ozona, FL shower replacement project. Tell us your goals, budget, schedule, considerations, and other important information, and we'll make sure to prove to you that we are the best fit for your project. For all types of bathroom construction services and product needs, Bathroom Renovation is here for you.
Call Bathroom Renovation at 727-335-2166 for your Free Consultation with a Ozona Shower Replacement expert!