Pinellas County Bathtub Installation
A bathroom may just be another part of the house and a bathtub may be a luxury for some. But as bathroom experts, we believe that bathtubs and the environment your bathroom has are essential parts of human life as they pave the way for comfort, relaxation, and privacy. This is why Bathroom Renovation offers top-notch Pinellas County, FL bathtub installation services for anyone who needs to have their relaxation life improved.
In buying and installing a new bathtub unit, you'll need to consider many factors that will affect how you use it in the long run. These factors include functionality, durability, accessibility, features, aesthetic design, and your other personal preferences. At Bathroom Renovation, we are ready to help you find the best products for your goals.
Bathroom Renovation is your best bet in having a first-rate Pinellas County bathtub installation that is an A-plus in quality, efficiency, and speed without the costly prices offered by other companies.
Call Bathroom Renovation at 727-335-2166 for your Free Consultation with a Pinellas County Bathtub Installation expert!
Professional Bathtub Installation
Need a new bathtub? Look no further than Bathroom Renovation. We have hundreds of great bathtubs and offer expert bathtub installation in as little as one day!
We are proud to offer a full set of bathroom renovation services from your Pinellas County bathtub installation, renovation to shower-to-bath or bath-to-shower conversions to full-scale bathroom remodeling. Rest assured that all our services and products are delivered with the utmost regard for quality, safety, and excellence.
With Bathroom Renovation, you don't have to worry about having to wait for days to be able to use your bathroom again. We can conduct entire renovation projects in just one to two days! We employ modern construction methods and ensure that our process is highly efficient without compromising quality. We also guarantee the quality of our products as we only partner with trusted suppliers in the business.
You just have to tell us what you need. If you have family members who find it difficult to move around your bathroom, we have experts to solve such problems. We can provide accessibility products like walk-in tubs or no-barrier showers so people can bathe more easily. We can also install jetted tubs in your bathroom so you can have a spa-like massage experience in your own home.
At Bathroom Renovation, we don't just present you with a list of our products and services. We offer expert advice and are dedicated to ensuring that the bathroom amenities, accessories, and features we add to your home through our stellar bathroom remodeling services will serve your family well for years to come.
Expert Plumbing Skills
The most basic thing your Pinellas County bathtub installation pro must be an expert in is plumbing. Bathtubs are fundamentally dependent on a working plumbing system. Small mistakes or minor incompatibilities that are ignored during the installation process may cause grave repercussions in the future.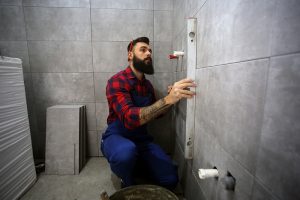 At Bathroom Renovation, we can seamlessly and flawlessly connect your new bathtub to your existing plumbing system no matter what kind of construction work we'll be handling. From a simple bathtub replacement to full bathroom renovations or even shower-to-bath conversions, matching your new tub to your existing pipes will be perfectly handled by our installation experts.
Rest assured that every bathroom remodeling project you work on with Bathroom Renovation is a true investment in your home and family. If you want to perfectly install your brand new bathtub with no hassle or mess, Bathroom Renovation is the company to call.
Electronic Skills
Many modern bathtubs require good electrical systems to operate. Especially if you're going to use our high-technology features such as jetted tubs and anti-scalding devices, you should expect that your bathroom remodeling company has experts in electrical systems.
Bathroom Renovation has all the electricians we need to conduct perfectly safe construction work on your bathroom amenities and ensure that they are all working properly.
As bathroom renovation experts, we know the importance of having a fully secure electrical system, especially in a room as prone to moisture as a bathroom.
With Bathroom Renovation, rest assured your Pinellas County bathtub installation is as safe as it can be.
Carpentry and Construction
While residential buildings have standardized guidelines in structure and design, not all houses are built the same. There can be minor or major structural peculiarities in your bathroom's design that takes a carpentry expert to notice and address properly. So it's important that your contractor is as knowledgeable in carpentry and building engineering as they are in plumbing and electrical systems.
If you think this seems too much to ask from a bathroom renovation contractor, we believe this is just the minimum. At Bathroom Renovation, we are ready to show you all our credentials, so you can feel confident in our skills and expertise. Let's talk it over in our free consultation.
Call Bathroom Renovation at 727-335-2166 for your Free Consultation with a Pinellas County Bathtub Installation expert!
Background, Experience, and Practice
Skill and education are not as impressive if they're not supported with substantial experience.
You may also want to check your contractor's background, experience, and practice to guarantee that they have the knowledge in bathroom renovations work that cannot be found in training manuals. It pays to check their resume, the number of clients they have successfully worked with, their professional certifications, and of course, reviews from previous customers.
Bathroom Renovation's staff is not shy about sharing our extensive experience and required certifications for our line of work. We have been renovating bathrooms for nearly 30 years and we are confident to say that we have extensive training and experience in bathroom remodeling. Coupled with our team's strong dedication to help people, we guarantee a fully satisfactory service for your Pinellas County bathtub installation needs.
Let's Talk – Free Consultation

Bathroom Renovation is your best choice for your Pinellas County bathtub installation. We are a top company that's fully capable of providing all the necessary technical services for all types of bathroom renovations, including remodeling your master bathroom and guest bathroom, converting your shower unit to a bathtub area or vice versa, and adding modern features to your bathroom. We even provide free consultation services as you choose the best options for your bathroom.
Bathroom Renovation offers the best bathroom products for you. We have walk-in tubs, step-in tubs, jetted tubs, shelving, grab bars, bathtub enclosures, shower doors, showerheads, low-barrier and no-barrier shower pans, and shower benches. From the finest products to the most skillful services, everything you need is at Bathroom Renovation. Partner with us to handle your Pinellas County bathtub installation at the best prices in the market in just one to two days!
Call Bathroom Renovation at 727-335-2166 for your Free Consultation with a Pinellas County Bathtub Installation expert!