Pinellas County Bathroom Remodeling
A bathroom provides a space for relaxation and de-stressing. However, if it's not in its best condition, it won't give you the comfort you need. If your bathroom has outdated features, damaged tiles, or faded paint, Bathroom Renovation can give you all the services needed to turn your old, worn-out bathroom into your haven of comfort and rest.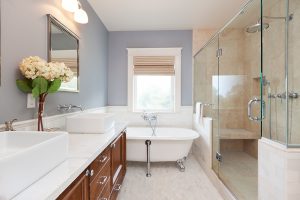 We are a top bathroom improvement company that guarantees a complete, high-quality Pinellas County bathroom remodeling package that can change how people experience their bathroom. Our group of highly competent interior designers, plumbers, electricians, and layout specialists, are experts in turning your personalized bathroom design ideas into reality.
From small bathroom tile repairs and modifications to entire bathroom renovations and conversions, we can complete every bathroom service that you may need to get the best out of your bathroom. Just tell us what you need, and we'll create a comprehensive bathroom remodeling plan for you. The best part is, you can get our high-quality, fast, and efficient Pinellas County, FL bathroom remodeling services done in just one to two days for the most reasonable prices in the market. Partner with us today so we can find the best bathroom solutions for you as soon as possible.
Call Bathroom Renovation at 727-335-2166 for your Free Consultation with a Pinellas County Bathroom Remodeling expert!
One Day Bath & Shower Renovation
Two of the most common reasons why people refrain from getting for a total bathroom makeover are pricing and inconvenience. The prices in the market are often too high for the quality of service that most construction companies offer, considering all the mess that construction work leaves and the time it will take for homeowners to enjoy a fully remodeled bathroom. However, you don't have to deal with any of that with Bathroom Renovation.

With our team of expert plumbers, electricians, and designers, we apply modern construction methods to our projects, enabling us to do complex remodeling operations in just one to two days. Our modern construction techniques allow us to reach the same high standards quality you demand despite the speed of our work. We also make sure that no mess will be left once we finish our job.
If any human error occurs, we will find the best solutions to fix the issue immediately.
Shower or Bath Conversion
Say you bought your house with a built-in shower unit. However, you see yourself wanting a bathtub system that can offer the deeper relaxation experience that you want. People have varying preferences regarding the kind of bathroom they have and the products installed accordingly. With Bathroom Renovation 's conversion services, your needs will be satisfied.
In addition to full bathroom remodeling services, we also offer complete bathtub-to-shower and shower-to-bathtub conversion services. Our plumbing, electrical, and carpentry experts can attach your new shower or bathtub unit to the plumbing, electrical, and structural system of your old unit to make sure the conversion is smooth and flawless in just one to two days.
If you want to have your bathroom converted but have no idea how to arrange the layout and design, you can have the expert recommendations of our interior designers. All your aesthetic and functional needs will be prioritized as we help you find the best products, layout, and features to include in your newly converted bathroom space.
Walk-in Tubs & Accessibility Options
Durability, style, and functionality are all very important aspects of a bathroom system. But at Bathroom Renovation, we also advocate the accessibility of our products to all types of people, especially those who are challenged with mobility issues.
People like the elderly, children, or those who have certain medical conditions may find it difficult to step over the walls of a bathtub or the barriers of a shower area just to get inside. To solve this problem, we offer walk-in tubs or barrier-free showers to increase the safety inside your bathroom by lessening the chance of accidents such as slipping or tripping.
To further add to the accessibility of your bathroom, we also offer a wide range of features and accessories that you can add to your Pinellas County bathroom remodeling project. These products include handheld showerheads, anti-scalding devices, grab bars, shower benches, and shower control panels.
Your Bathroom Remodel Partner
With Bathroom Renovation, rest assured that your personal needs, preferences, and standards for your bathroom's look, functionality, durability, and overall quality will be the top priority. With our skill and experience, we are confident that we can accomplish your vision for your bathroom as accurately as possible, leaving you fully satisfied with our partnership.

As early as our initial free consultation, we will be all-ears to all the relevant information that you share with us, from your overall goals, required services, and full budget to the smallest details that you want us to address, like the small cracks around your bathroom or the fungal growth that you need to get rid of. We are ready to conduct an on-site evaluation of your bathroom to ensure we get everything right, from the plumbing and electrical systems to the bathroom's general layout.
The comprehensive plan that we will agree on for your bathroom will be handled by no less than highly qualified and experienced carpenters, plumbers, and electricians. We make sure that we leave no room for error and that everything we do is done efficiently.
You can trust the quality of the products that we will install in your bathroom as Bathroom Renovation deals with only the most trusted and proven suppliers. Our products are guaranteed to be top-rated for quality and durability without being overpriced. With the right design ideas by our interior designers and your personalized touch, the value of your home will definitely increase not just according to your preferences but also the standards of the real estate market.
And don't forget: Bathroom Renovation can do all these services for you in as little as one day!
Let's Talk – Free Expert Consultation

Because it's a center for relaxation in everyone's home, a bathroom's functionality and freshness are very important. Products of age and wear like mold, cracks, chips, outdated technology, and general damage make anyone who uses a bathroom prone to health issues and physical accidents like slipping, scalding, and even cuts.
Renovate your bathroom to its best condition with Bathroom Renovation, a top-notch Pinellas County bathroom renovation company that offers the best bathroom remodeling services that the industry has to offer.
Call Bathroom Renovation at 727-335-2166 for your Free Consultation with a Pinellas County Bathroom Remodeling expert!